From Heather Rae Hatton, Creative Director-
"Art means craft, skill, focus, intention, the distillation of emotion and ideas. Its purpose is to share an experience and create new experiences. Club 157 features artists to elevate the coworking experience and subsidize our community. Art collectors have an opportunity to contribute to our growth. We are not seeking investors in our adventure but rather support through Art!"
Past Shows:
JULY-AUGUST 2016
Mary of Cain by Jane Cogger : The Club 157 Gallery (club157.com) is pleased to present a solo exhibition of new works by Jane Cogger entitled "Mary of Cain" to run from July 8, 2016 – August 7, 2016 with an opening reception July 8th from 6-9 featuring live installation art. The gallery will also be open late and feature another installation performance for Bushwick Hot Summer Nights on July 15th, in participation with 27 Bushwick galleries (bushwickgalleries.com).
This exhibition is a memorial for the fictitious character, Mary of Cain.  Mary is the symbol of [in]naissance, tarnished by being placed in the lineage of Cain, the crop-farmer and original vegetarian who killed his brother for making an animal sacrifice to another fictitious character, and thus she bears the mark of Cain.  She possesses a perfect childlike innocence that exists only because the child has not yet learned that certain actions that seem the most innocent and playful are actually supposed to bear a shameful weight.  The artist enjoys alternative narratives to age-old myths that expand the idea of what a personality or narrative could (have) be(en).  This is a memorial because the personality of Mary has not borne the potential for longevity and so her creator outlives her, showing that the idea of fixed personality is the death of personality itself, as man creates God only to kill him, and/or vice-versa.  This narrative itself has a time limit, as myths of death and resurrection that are based on a self-centered universe become complicated by ideas of all things existing along a continuum.  The Sun rises and sets for me but not for itself.
Jane Cogger is an interdisciplinary artist who is interested in language, sexuality, and philosophy.  Her work is rooted in painting but here incorporates projection, video, and live installation.  She grew up in Ithaca, NY, and studied at Tufts and SMFA before traveling the US, Mexico and Europe as a freelance model.  She currently resides in Brooklyn.
"Mary of Cain" will run through August 7th. The live installation aspect of the show can be witnessed on July 8th or July 15th. Gallery hours are available 7 days a week by appointment. For additional information please contact Heather Hatton, 570.647.9591 or art@club157.com.
JUNE-JULY 2016

Club 157 presents
The Bushwick Photography Club : Group Show
June 24th – July 10th
MAY-JUNE 2016
Dioramarama: an experiential performance and exhibition
May 13, 2016 – June 5, 2016
Opening May 13, 6 to 9 PM
Showing in Bushwick Arts Festival June 4 & 5, 12-7 PM
Visual Artists:
Allie Olson, Anna Link, Benjamin Heller, Brandi Martin Yu, Christybomb, Deborah Forrest, Efrat Baler-Moses, Heather Rose Piper, Jackie Lore, Jenn Cortes, Kirsten Bowen, Lisa Marie Ludwig, Mary Westring, Matt Rota, Nancy Elsamanoudi, Nylaia Silvia Prado Dos Anjos, Omer Gal, paulapart, Robert Hickerson & Kerry Lessard, Sharilyn Neidhart
Performance Artists at Opening:
Joann Arosemena, Olivia Coffey, Omer Gal, Cassidy Graves, Duke Taylor, Theo Thimo, Jason Trachtenburg, scripted and choreographed by Edward Pankov
Dioramarama Press Release
Dioramarama Price List

APRIL-MAY 2016
"Artifacts of the Descendants" : Jonathan Kopp in April
Artifacts of the Descendants Conceptual Statement
Artifacts of the Descendants Price Sheet
How will the deep human psyche evolve into our post-planetary future?
This idea is the point of departure for "Artifacts of the Descendants", Kopp's newest multi-part visual and performance work.
In this project, he will be "documenting" the lives, art, and belief systems of a tribal people living 3000 years in the future in the interior of 16 Psyche, an M-Type nickel-iron asteroid.
The focus will be on the mythology and ritual surrounding two prime deities of their invented pantheon: Continuity, the goddess of deep time, evolution, and fertility; and Singularity, the goddess who reigns over the unprecedented, the designed, and the transgressive.
The ultimate goal is to visualize and portray a speculative mythography of the future—both sacred and profane—in the form of a series of artifacts and images as well as a "re-enactment" of ritualized theater. Imagine a gallery of exhibits in the "Tribal Peoples" wing in the AMNH of distant futurity.
The influences from which Kopp draws inspiration for this exploration will be diverse, but three important sources are of note. The first is Ursula K. LeGuin's 1985 work "Always Coming Home"; a type specimen of science-fictional ethnography and a reference for imagining the collective unconscious of future humans. Secondly, the visual layer is informed by the iconography of Tibetan Buddhists, Japanese Shintoists, Native American tribes of the Pacific Northwest, 21st century Butoh performers and others.
Finally, there is a personal layer of his own intimate memories and insights; a patina of lived subjective experience.
Kopp's media of choice will be mixed and will range from photography to 3d printing to assemblage of found objects and military surplus spacesuits. This show will include sketches, concept art, prototypes, and production artifacts from the larger conceptual work.
MARCH-APRIL 2016
"Dreamcatching" : Group show, over 40 artists participated!

Dreamcatching Price List / Catalog – All artists from March group show – click to browse.
Dreamcatching is a group show, exploring the theme of dreams. Traditional dreamcatchers, 2D & 3D, abstract sculpture, visual work, and more will be on display. We are super excited to have so many participants! Artists range from fine art to outsiders to practitioners of mystical arts. Pieces will be magickal and sure to inspire the manifestations of YOUR dreams. Come and remember. Resonate. Identify. Be transported.
While dreamcatchers themselves are from the Native American culture, dreams across cultures have had a variety of myths and tools associated with them through the ages. Come out to our opening reception and learn a little bit about cultural differences between dreams, between individuals, traditional dreamcatchers, and SHARE YOUR OWN DREAMS! We will be having a participatory dream talk talks from 6-7:30, then live music by Pinc Louds 7:30-8 & Emily Einhorn 8-8:306-7pm. Sponsored by Standard Spirit Distillery, ZICO Coconut Water & Bruce Cost Ginger Beer.  Dreamcatchers workshop 6:30-8:30 March 23rd. Slumber party, artist dinner, crystals workshop and exorcism to be announced.
"XOXO : on love" in February 2016 : Lena Marquise & Caspar Peteus
In series "XOXO: On Love", Lena Marquise and Caspar Petéus will showcase a body of work based on phrases taken from films, painted onto 20 canvases.
In their works, they explore themes of sexuality, and occasionally, irony while others simply play off geometric shapes or aesthetic principles. But each piece comes as a part of a bigger whole, with each series giving us a look at a new corner of the ever-expanding enigma that is love.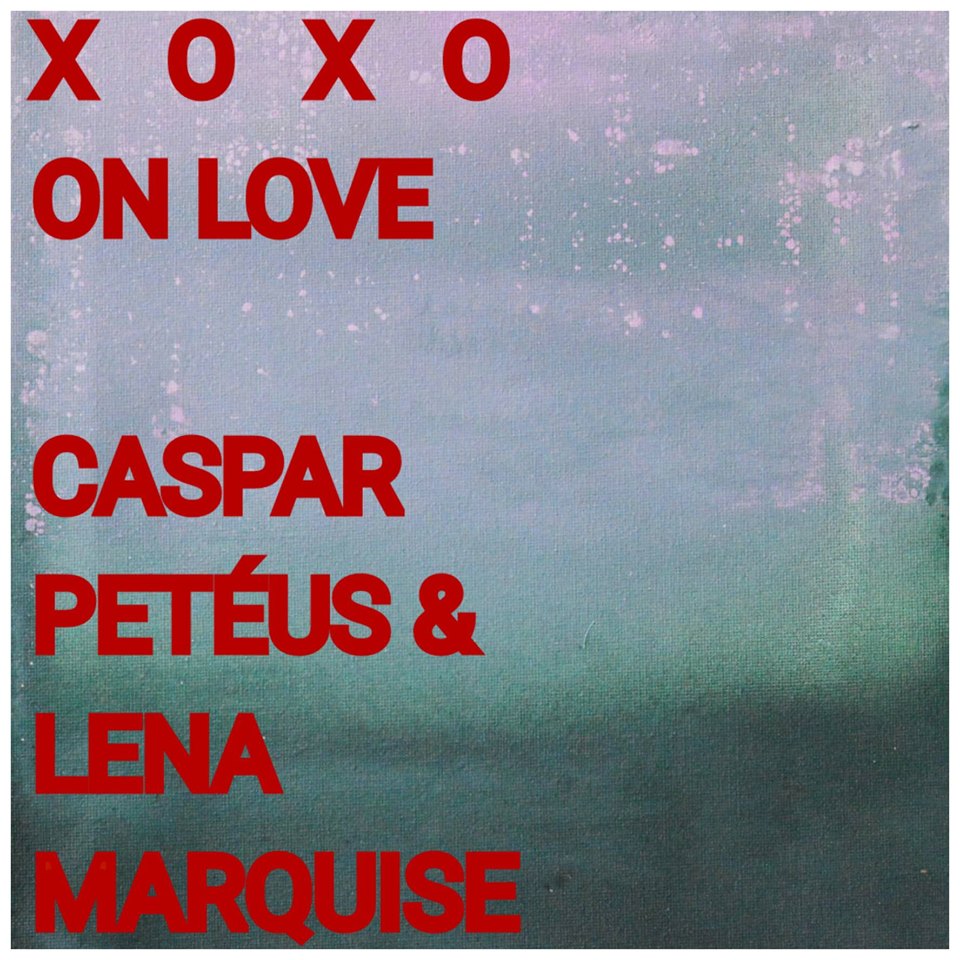 LENA MARQUISE 
Lena Marquise is a interdisciplinary artist.
Her work focuses on gender, sexuality, ethics and morals.
She uses art direction within installations to add an element of static sculpture – she conveys tension with her choice of position and blocking, as well as the placement of the audience. 
In concept as well as in practice, Marquise focuses on the duality of creating works as the voyeur, as well as the exhibitionist.
Marquise is currently living in New York.
Her recent work has shown at Art Basel Miami 2014 and was publicized worldwide for recording artist, Usher, being involved in her performance and installation "Body As Commodity" when he participated by charging his iphone with a cable attached to her vagina.
CASPAR PETÉUS 
Caspar Petéus was born 1988 in Gothenburg, Sweden. 
At the age of 15 Petéus began to experiment with writing graffiti, and would later on paint murals with a collective formed from a group of close friends and collaborators from Malmö and Stockholm.
After graduating from high school, Petéus worked in the restoration industry with two of Sweden's leading conservators to restore paintings, historical buildings and churches. 
In 2011 Petéus attended an artist residency at Spinneret in Malmö where he began to work with acrylic paint on canvas.
In 2012 Petéus moved to New York where he pursued a full-time career in modeling for fashion, which brought him to take temporary residences in Rio de Janeiro, Milan and Stockholm. 
He currently works in a variety of media, including painting, collage, photography, digital, textile, and mural painting – maintaining a constant tension within a multitude of elements. Throughout the works he vacillates between fluent and stagnant, pristine and messy, minimalist and expressionist. As he is moving freely between figuration and abstraction, his works plays with historic portraiture, inchoate bodies and positive and negative spaces to create a tension that can reflect the extremes of bottomless desire and sober repression. 
Petéus lives and works in New York, NY. His studio is located in LIC, Queens.